MPSC सामाजिक न्याय व विशेष सहाय्यक विभाग, महाराष्ट्र शासन
सहाय्यक आयुक्त, समाज कल्याण ( गट अ ) - ४१ पदे
समाज कल्याण अधिकारी ( गट ब )- २२ पदे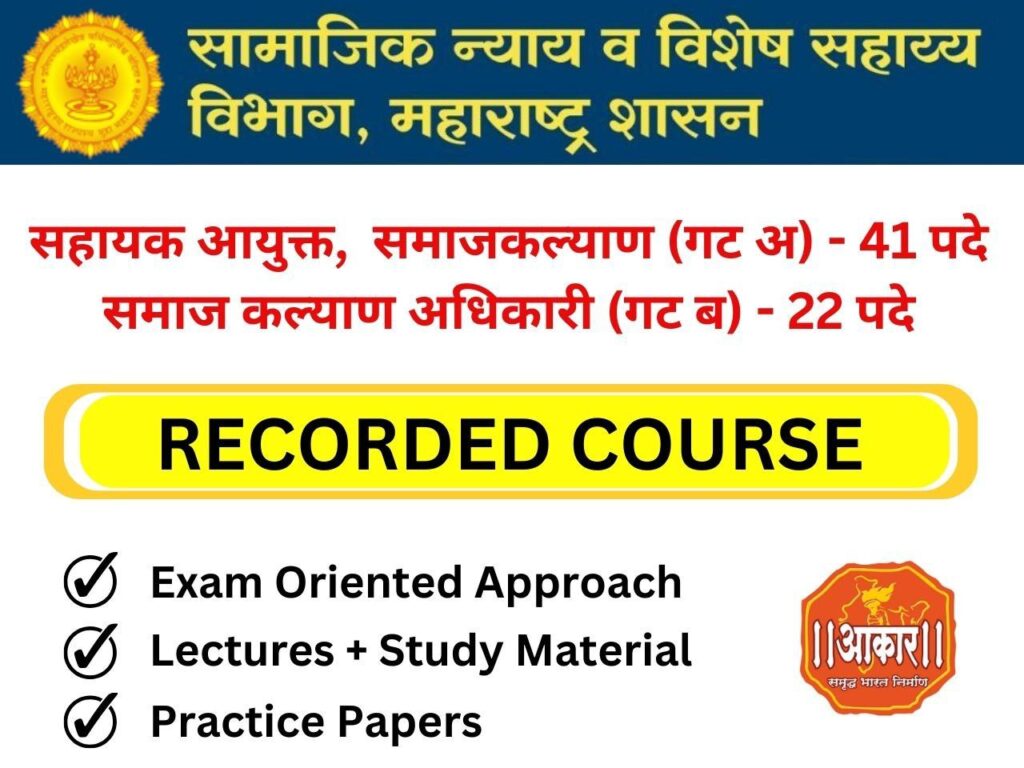 Dear students, as all of us know that this exam is for the post of सहायक आयुक्त गट अ, समाज कल्याण अधिकारी गट ब,  गृहप्रमुख गट – ब . The aspirants preparing for this exam are already working professionals. So investing time for regular classes is not possible for everyone. Also seeing the nature of the syllabus of this exam, it is very difficult to collect the required study material for the complete syllabus. Considering the time constraint and unavailability of study materials, We have compiled and restructured all necessary syllabus oriented study material at one place. So sit back and relax. This course is designed so that the students who cannot attend classes can easily study from the best faculties at their home and break the challenge of this exam. In this course you can access the study material and recorded lectures as per your convenient time. 
Mode : Online Recorded content 
Course Size : Total 150+ classes. 
Course Validity: 1 Year
         सहाय्यक आयुक्त ( गट अ )
   Coverage of Entire Syllabus
   Recorded Lectures
  Study Material
  Test Series
  Fees : Rs. 9000/-                                                                                         
        समाज कल्याणअधिकारी ( गट ब )
Coverage of Entire Syllabus
Recorded Lectures
Study Material
Test Series
Fees : Rs.7000/-                                                                        
Recorded Lectures
150+ Recorded Video Lectures
Coverage of entire syllabus
Medium : Bilingual (English+Marathi)
User Friendly Interface
Study Material (Notes)
Updated and Comprehensive Study Material
eBook Notes in PDF Format
Coverage of Entire Syllabus
Available in  Bilingual
Test Series
Total subjective + Comprehensive Tests
Designed as per MPSC's new Syllabus
Questions formulated by Experts
Available on App (Online)
Instant Evaluation + Unlimited Attempts 
After successful payment, send following details 
Your Full Name
Contact number
Active email ID (Google account)
Screenshot of payment
on this Whatsapp number 9021921602.
The link regarding course material will be shared with you as soon as possible.
Note : FEES ONCE PAID WILL NOT REFUNDABLE OR ADJUSTABLE. – By Order
अधिक माहितीसाठी संपर्क – 
 9021921602, 9307088946, 9403361792