MPSC सामान्य राज्य सेवा/ सरळ सेवा गट-अ,ब
Administrative Officer TEST SERIES 2023
Administrative Officer Gr.-A,B
(प्रशासकीय अधिकारी गट-अ, ब)
स्वरूप : ऑनलाइन

संपूर्ण अभ्यासक्रमावर आधारित एकूण 10 Full Length Tests 

MPSC आयोगाच्या नवीन परीक्षा पॅटर्नप्रमाणे सराव परीक्षा

मागील 1 वर्षीच्या चालू घडामोडींच्या प्रश्नांचा समावेश

ऑनलाइन  : आकार फाउंडेशन मोबाईल App वर उपलब्ध

Instant Evaluation, unlimited Attempts 
Online Test Series Fees
₹ 3500/-
One time Payment of Fees: Rs. AO 3500/-
Pen Drive Course also available
Recorded Lectures :
70+ Classroom recorded lectures

Bilingual medium (English + Marathi)
User Friendly interface
Price : Rs. 7000
Study Material (Notes)
Coverage of Entire Syllabus

eBook notes in PDF Format
Available in English + Marathi
Price : Rs. 3000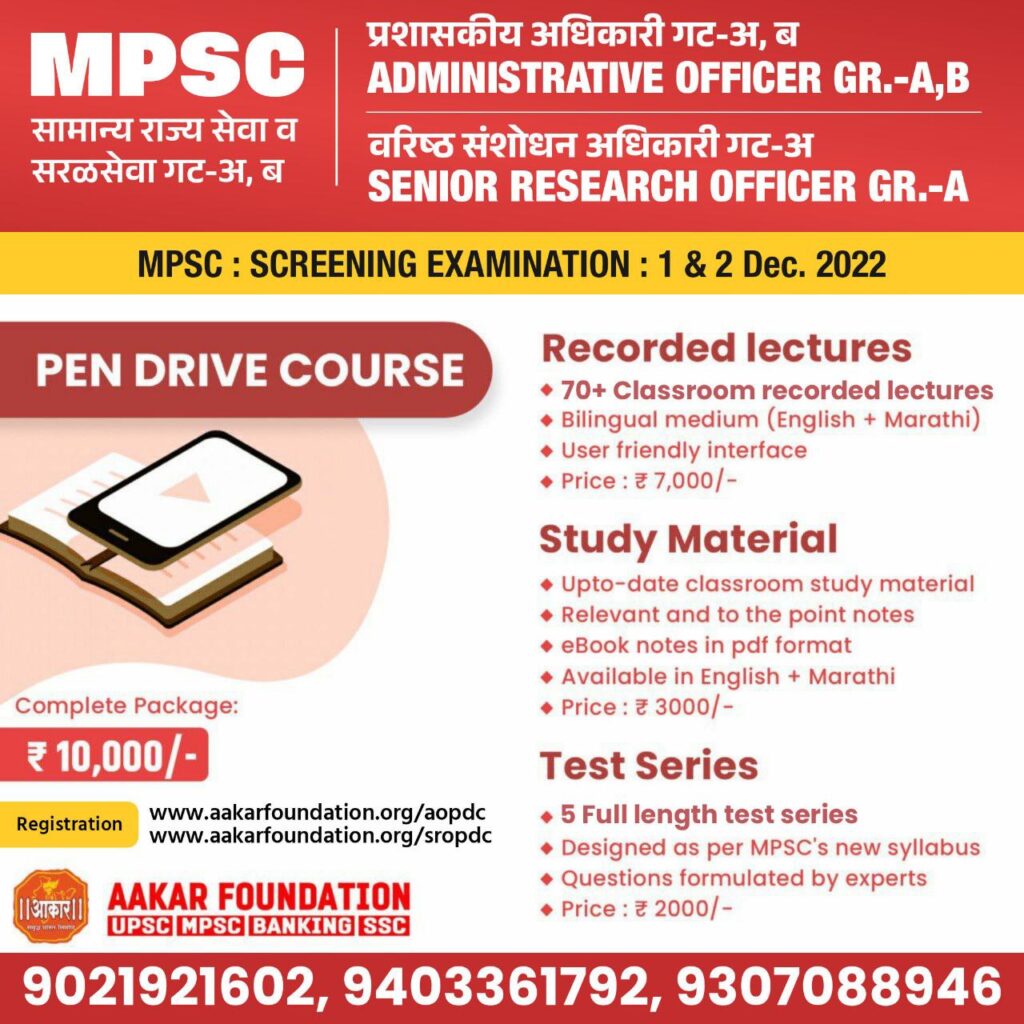 Recorded Lectures

Study Material

Notes
1st Test Free to all
Only on Aakar Foundation Mobile App
अधिक माहितीसाठी संपर्क – 
 9021921602, 9307088946
After successful payment, send following details on this Whatsapp number 9021921602. 
Name Of exam
Your Full Name
Contact number
Active email ID (Google account)
Screenshot of payment
Note : FEES ONCE BE PAID WILL NOT REFUNDABLE OR ADJUSTABLE. – By Order.